I love cherry blossom.
I'd like to enjoy private "Ohanami" on our own land.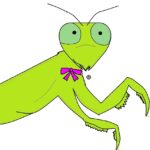 Kinako
"Ohanami" = enjoying cherry blossoms viewing with delicious food.
I decided to plant a lot of Cherry blossom seeds and grow them!
Planting Cherry blossom seeds
This time is my first trial.
I read a lot of information before I started.
It seems that there are some ways to make the seed germinate.
I chose the easiest way this time.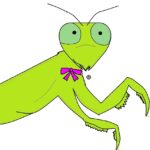 Kinako
Now I'm going to tell you how I did it, step by step.
First, I started collecting Cherry blossom seeds.

After the cherry blossom flowers fade, they start having seeds.
Take a look at the pictures.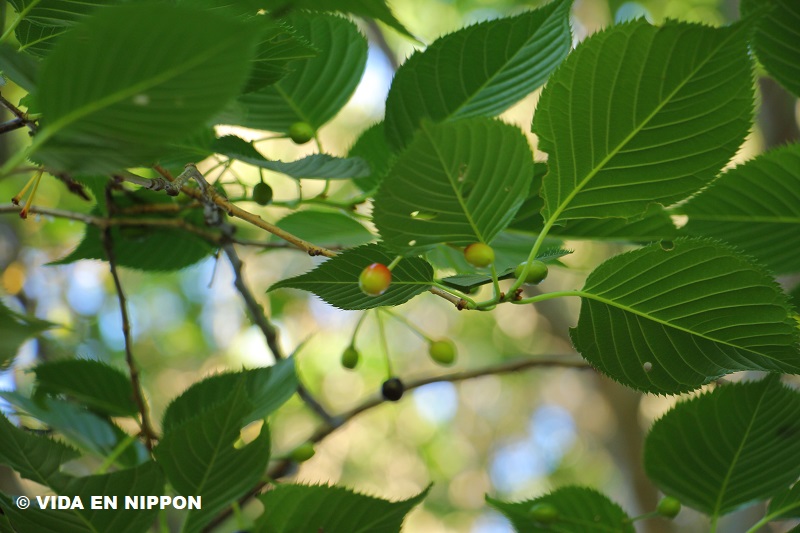 In May, you can find a round-shaped cherry-like growing among the green leaves
(I don't know how to call it, but I use the word "cherry" here)

First, the color of the cherry is green, but they turn red and after that black.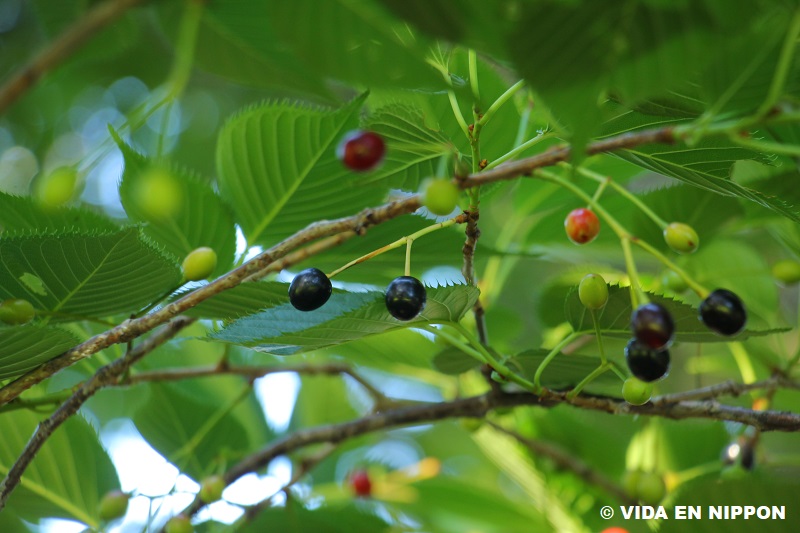 In June, when these cherries are ripe and black, they start falling off the tree, and this is a good time to collect them and plant them.
Collect Cherry blossom seeds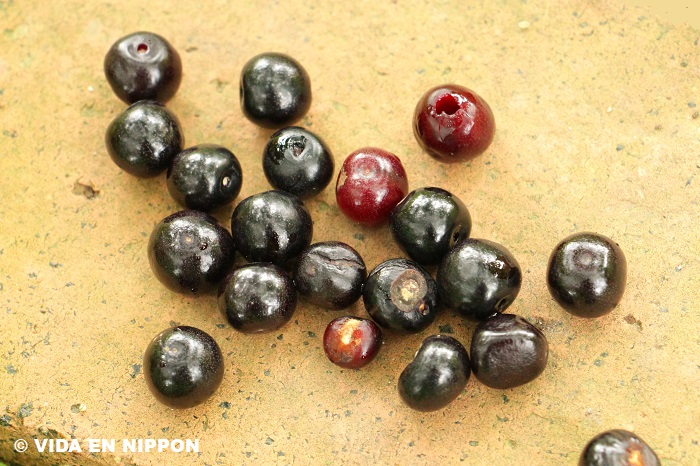 When the cherries are ripe, they fall naturally.
So you can get them from the ground.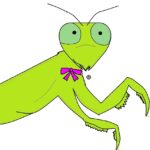 Kinako
Me too! I picked up a lot of cherries from the ground.
Remove the skin and pulp of the Cherry blossom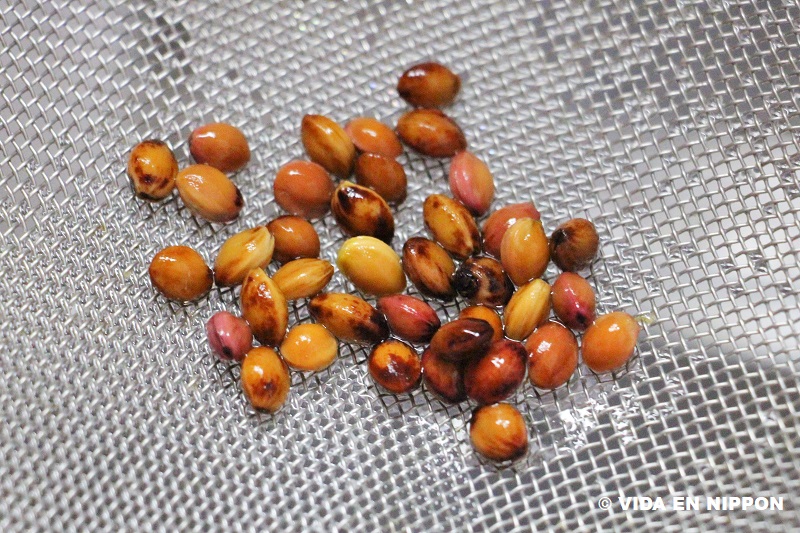 Remove the skin and the pulp of the cherries because the pulp prevents germination.

The cherry pulp is dark purple in color, and it can dye your fingers or clothes purple, so please be careful when handling them

Plant the Cherry blossom seed into the soil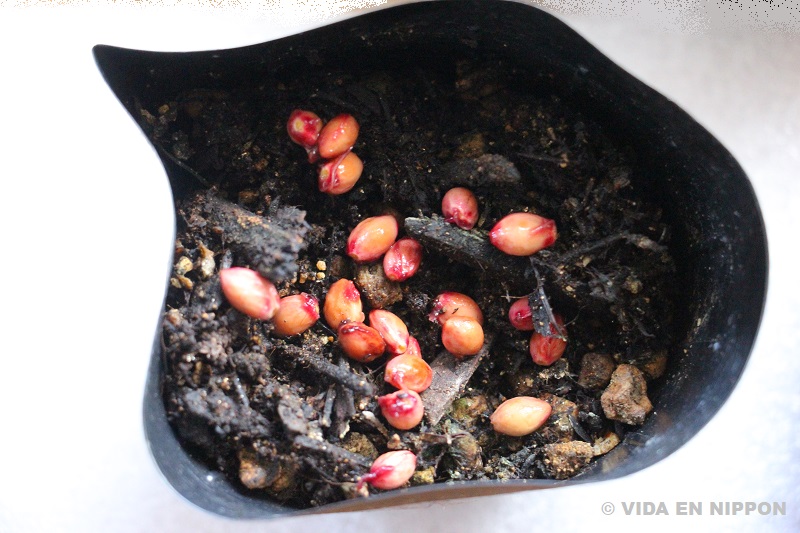 Put the seeds in the soil and cover them.
Be careful not to make the seeds dry and give them some water.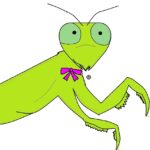 Kinako
You don't need to put all the seeds into a container together!
In my case, I collected more than 100 seeds, and simply I didn't have enough space for each seed. (-_-;)
Let's wait until next spring!
Waiting for the cherry blossom seeds to germinate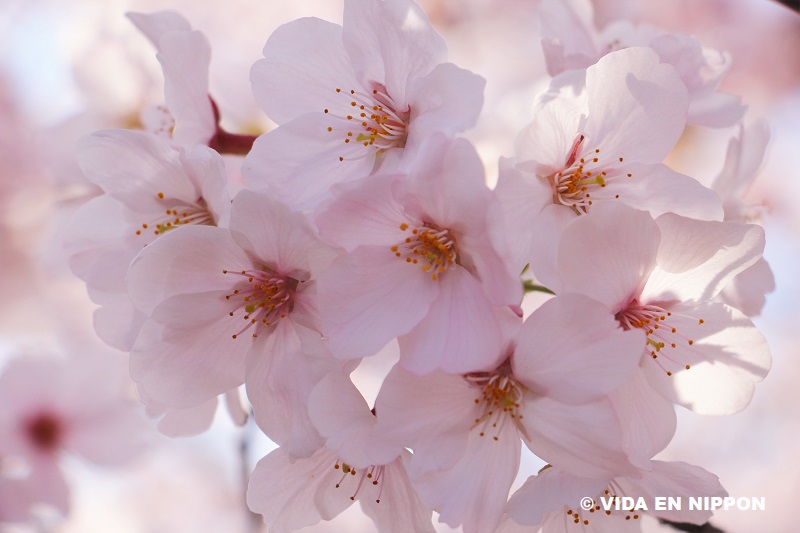 This time, I talked about my first experience to plant Cherry blossom seeds.
Next spring, they will germinate.
I still don't know the result, but let's see what happens!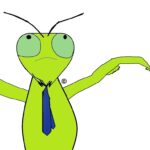 Mantis