One of my favorite Japanese foods is "Kamameshi".
What's the difference between Kamameshi and Takikomigohan?
Kamameshi is a food which is cooked with rice with some other ingredients like mushroom, chicken, vegetables with the cookware "Kama".
You might wonder "Kamameshi looks like "Takikomi gohan". What's the difference?".
If you thought that way, you are right.
But "Kamameshi" is always cooked using cookware called "Kama"
Here's a picture of "Kama".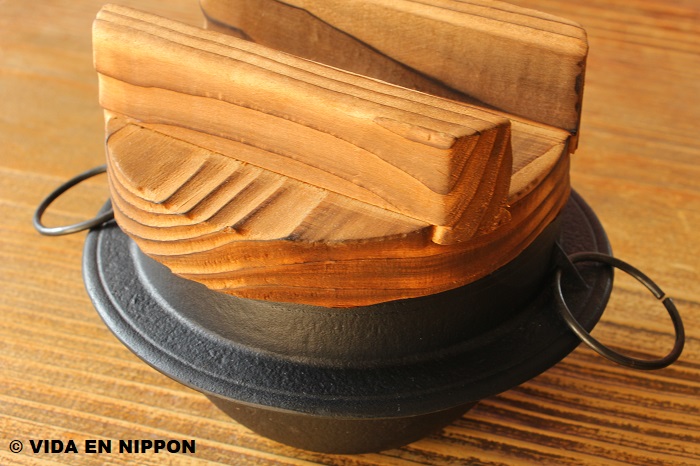 Kamameshi is Takikomigohan cooked with this.
If you cook with a clay pot or rice cooker, it's called "Takikomi gohan".

Kamameshi recipe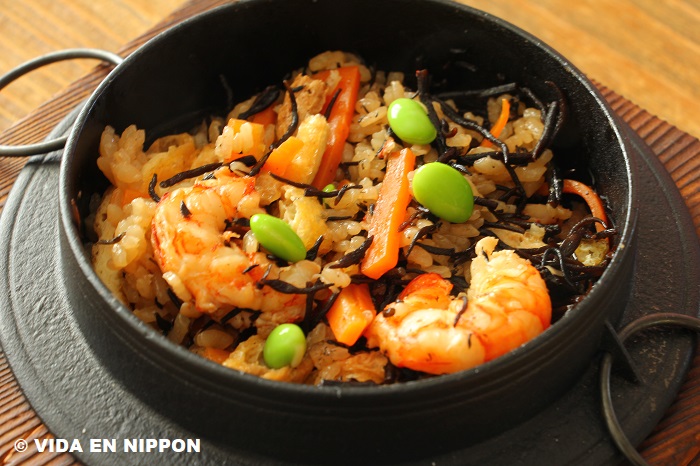 Ingredients for Kamameshi (shrimp & Hijiki)
Rice 360ml
Water or fish soup stock 350ml
Kombu a little
Hijiki 10~14g
Shrimp 5~7
Aburaage 1
Carrot 1/2
Edamame if you have
Soy sauce 2.5 tablespoons
Mirin 2 tablespoons
Sake 1 tablespoon
Recipe for Kamameshi
Wash the rice and leave them in a strainer for 30 minutes.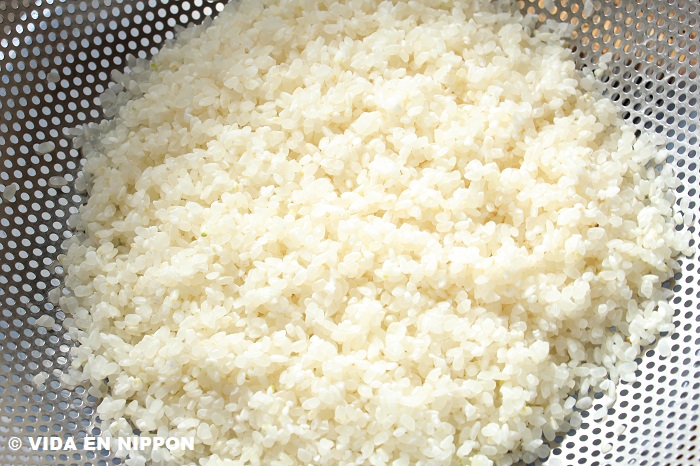 .
.
Put dried Hijiki into the water for 20 minutes.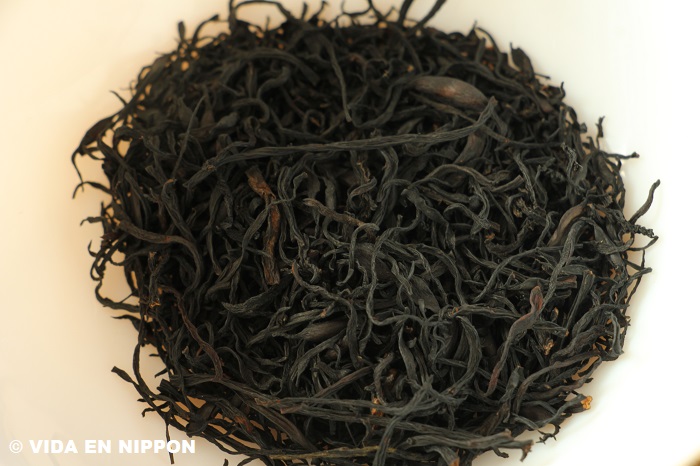 .
.
Remove the shell and devein the shrimp and wash them with salt.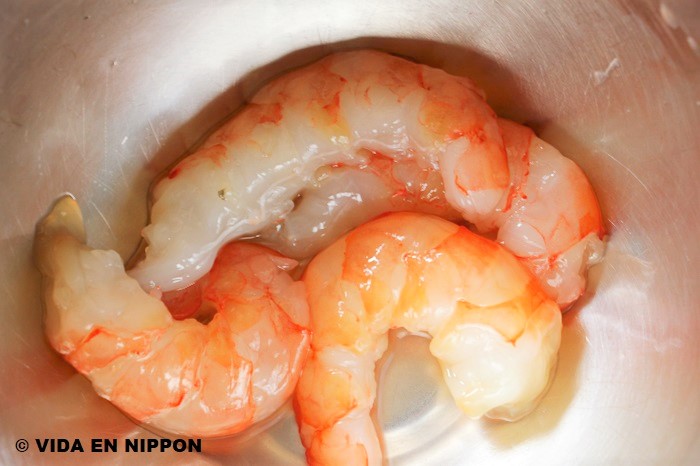 .
.
Cut carrot and Aburaage. Now you finished the tough part!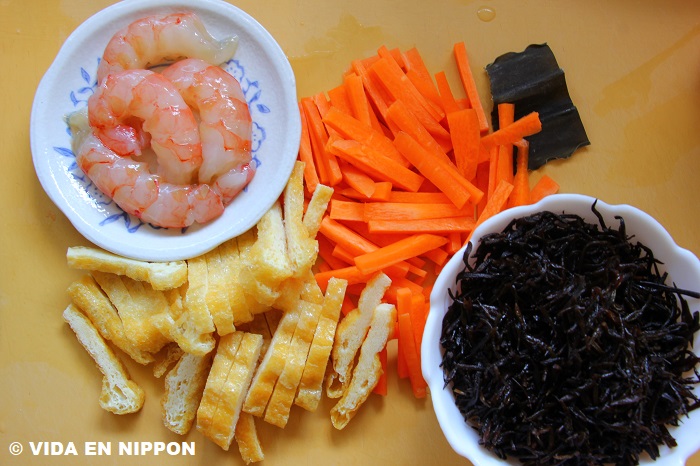 .
.
Put the rice and Kombu into the Kama and add water (or fish soup stock).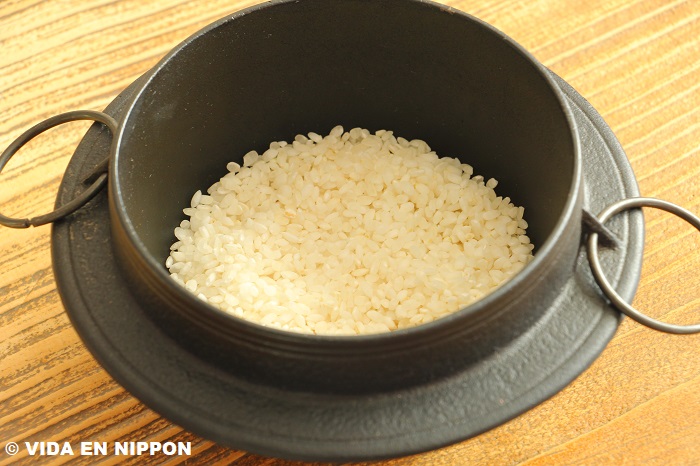 .
.
Add the seasoning (Soy sauce, Sake, Mirin)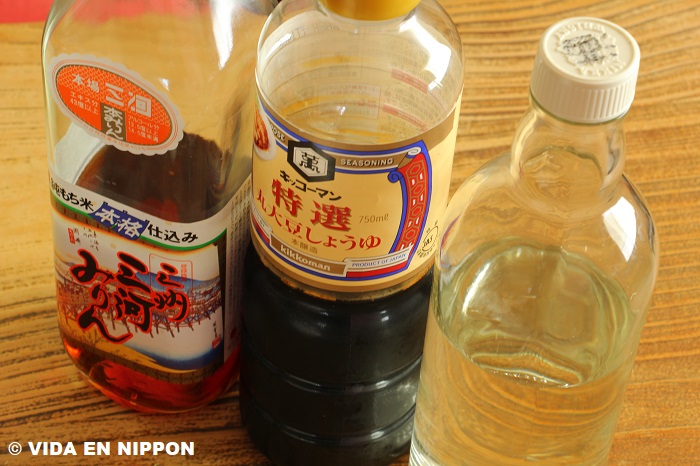 .
.
Put the ingredients.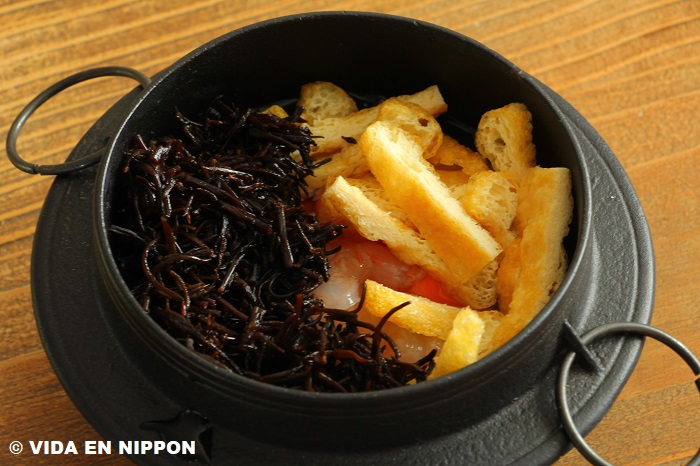 .
.
Put the lid and cook it on low heat for 15 minutes.
(While you are cooking Kamameshi, boil Edamame.)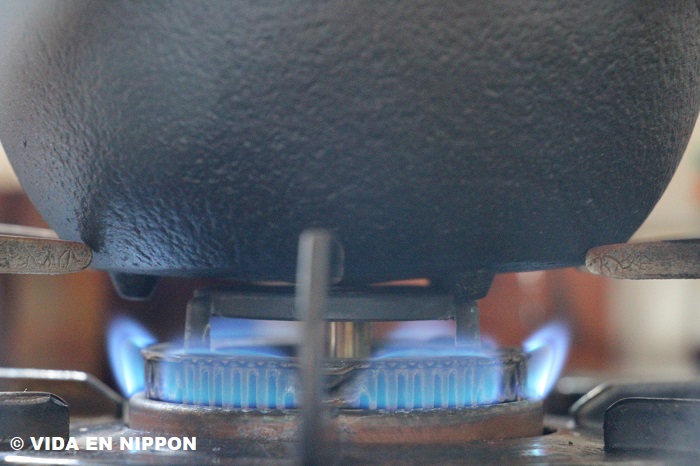 .
.
Turn off the fire and leave it for 15 more minutes.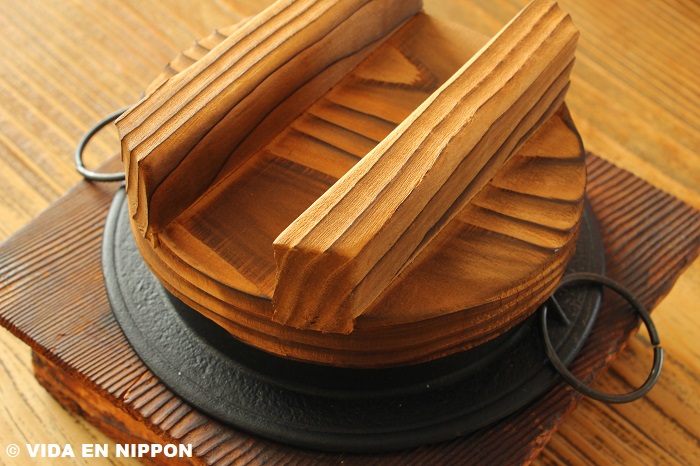 .
.
Open the lid and stir from the bottom gently.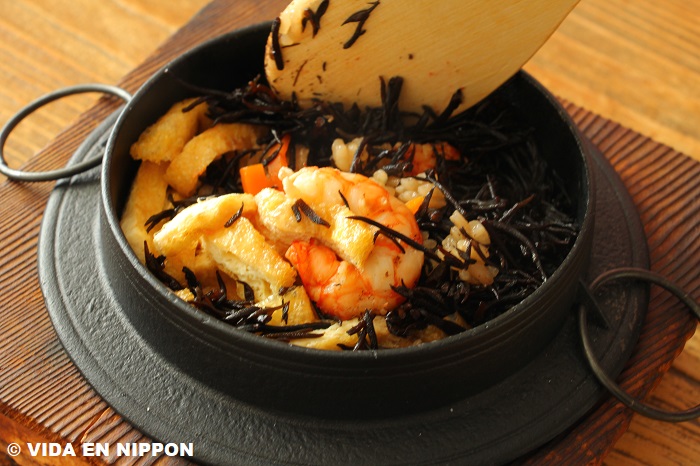 .
.
Put Edamame. Done!!!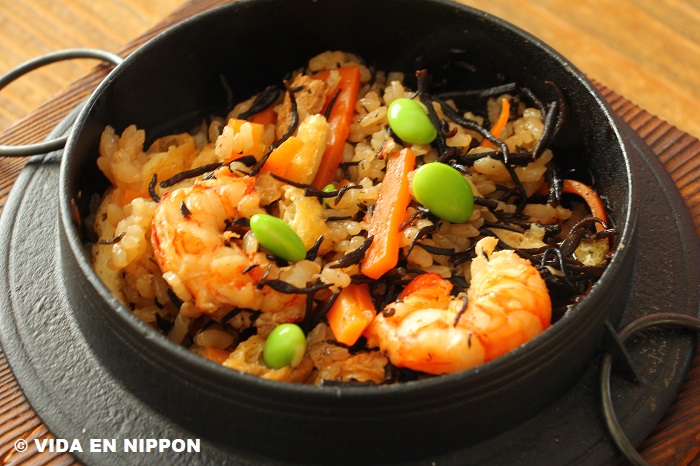 Kamameshi=Japan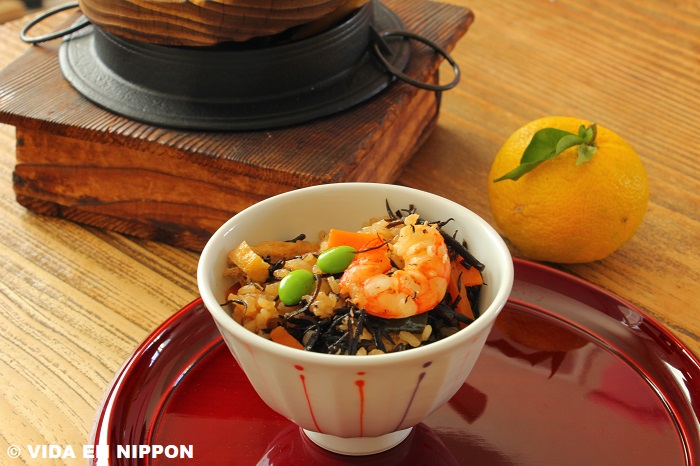 Udon, Nikujaga, Katsudon…
Everything is Japanese food.
But if you really want to try "Very Japanese food", please try "Kamameshi".
Now not a lot of Japanese people cook "Kamameshi" at home, so if you cook this yourself, everybody would be surprised!
If you like, you can put chicken or mushrooms, too.
And if you don't have "Kama", you can use a clay pot instead.
(In that case, the name of the food would be "Takikomi gohan" though)
If you want to get "Kama", you can buy it on Rakuten.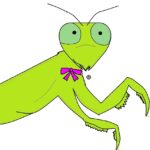 Kinako
This is the smaller type, and you can cook rice 180ml.
Kamameshi you can buy on Rakuten
If you don't have enough time to cook Kamameshi, you can buy Kamameshi online.
On Rakuten, there are many "Kamameshi".
Tori Kamameshi (Chicken)
You can enjoy chicken Kamameshi at home.
You just need to heat it with a microwave.
Tako Kamameshi (Octopus)
This is delicious octopus Kamameshi.
They send you ingredients.
So you need to put the ingredients with rice in your rice cooker.
Nodoguro Kamameshi (Fish)
You can enjoy the luxury taste with "Nodoguro" with this package.
You just need to cook rice with it.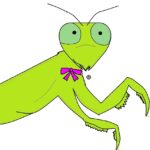 Kinako
There's a lot of different type of Kamameshi.
Please try a lot!
If you are interested in Japanese food recipe, check this article as well!